Yeah Write offered a challenge to write a cinquain… so, I did.
A Flash of Fiction...
Never.
No, not ever.
But.. twice is not enough,
And yet, once is more than plenty
With you.
With you
I gave my all.
Poured out my love for you
Then you stole my heart and left me
Shattered.
Shattered?
Like it's my fault?
Remember, that was you
Who said yes to me, way back then.
Not me!
Not me.
I am broken.
And you are gone for good.
Yet I am lost in my own world.
Alone.
Alone.
Not me, but you.
Shattered on the inside,
With you there never will be love.
Never.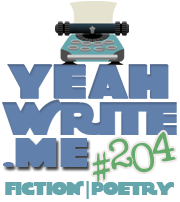 This is written as a Crown Cinquain for Yeah Writes March Poetry Slam